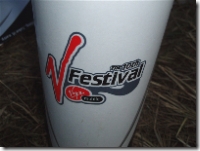 This is the first festival I have been to since Reading in 1979, and it was Wen's first. Faithless were the main attraction, and with Radiohead added we were sold. We couldn't get into Chelmsford, it sold out before we could get onto the website, so we set off to Weston Park in Staffordshire after lunch on Friday.
Too late, as it happens. We got close to the junction on the M6 at about 6pm. 45 minutes later we reached the roundabout. Amazingly, there were touts walking up and down the queue trying to flog tickets. Do people really drive all that way and queue for hours when they don't have tickets?
Then they cheekily charged another £7 for car parking, which was just a nearby field. It took us almost an hour to walk to the campsite, and that double airbed got mighty heavy.
Still, the tent was pitched, the airbed inflated and the beer (via tokens) purchased. And it wasn't actually raining.
If the bloke in the next tent hadn't wittered on in a ludicrously loud voice until 6:00am in the morning we might even have had a good night's kip.