The bacon roll and tea at the campsite burger van were disgusting, so a lesson was learnt there. Having failed to show anybody our tickets last night we set off in search of wristbands and programmes so we knew who was on when. And I had £10 burning a hole in my pocket, which was lucky as that's exactly how much it cost.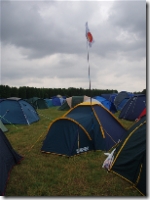 We had a beer in the Carlsberg tent, and singing along to the DJ was our first taste of music. Back to the tent for a lie-down to wait for the bands and the rain to start.
Our flag was nicked on Sunday, but by then I knew where the tent was and Wen nearly did.
First up were The Rifles, who were very good. Planned next were Hayseed Dixie, but everyone else thought that too and the Cider House was too small.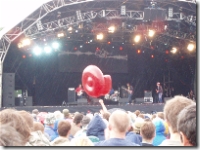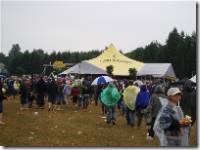 We briefly saw The Dandy Warhols while we wandered around and a band called Lorraine who came on while we sat in the JJB tent to escape the rain. The Feeling were excellent and we liked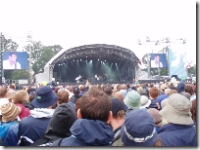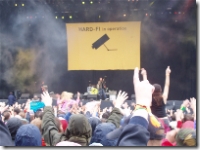 Hard-Fi a lot. Then the rain made us seek out a Teepee for a cup of tea and a sit-down until it was time to head back to the main stage, pausing to hear a couple of songs from Starsailor,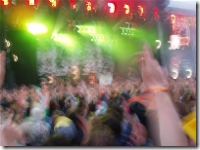 and work our way to
the front for Faithless -superb as always and bouncing up and down is required.
We needed beer to recover and we walked past Morissey (as did almost everyone else) to see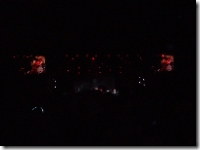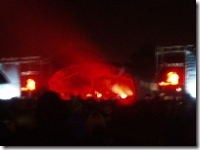 Razorlight, who disappointed even though it finally stopped raining – too late for the paths which were now Glastonbury- style mud.