The next tent only talked 'til 4:30am this time, so an early night.
Went down to the arena, in the not rain, and discovered where we should have had breakfast yesterday. Then back to the tent to sleep and listen to the Archers on the radio in my mobile phone.
Daniel Powter was playing his last track ("Bad Day") as we wandered past.
It was getting a lot busier over at the 4 stage where the Saw Doctors
were very entertaining, particularly "Doncha wish your boyfriend was OLD like me".
Time for more noodles from Zen & Now, our favourites at The Strawberry Fair for many a year, before The Divine Comedy sang "a song about a bus" and other excellent tunes, including his now current single "A Lady of a Certain Age"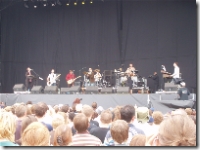 After that we caught a v. small amount of Kula Shaka but enormous crowds just sitting made us abandon plans to see Orson for a sit down in front of The Magic Numbers.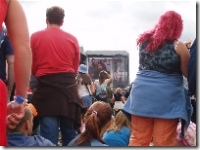 They were very boring. We decided to try the crowds at Orson after all. He
was wearing his hat. We dropped into the tent and saw The Young Knives finish their promising set. We gave Bloc Party a miss (too bland) in favour of a nice cup of tea and a sit down, and as luck would have it, shelter from a passing shower. Got back in time to be at the front for Keane, who really were a pleasure to listen to (and sing along with).
We heard a rumour that Fat Boy Slim was starting early, but when we got to the tent it was just Girls Aloud and a very big crowd. Opted for a beer and an empty stage where the Ordinary Boys should have been. The Editors came on next, and we were sorry to leave but we had to go and get a good spot for Radiohead.
They played "Creep"! They played lots of classic songs, many of which we didn't think had words but the rest of the crowd knew them and everybody joined in. A superb finale.
The weekend finished in chaos as only one booth in the entire arena was giving beer token refunds. We retired to the tent, planning on an early departure to beat the crowds. Ha ha! Up and packed by 7am, we trudged miles through the return of the rain and then it took us 2 hours just to leave the field we were parked in.