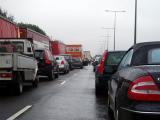 We were travelling to a small village just south of Northampton. The GPS SatNav was in charge. We were half an hour away when Digital Dorothy, possibly confused by the double roundabaout at the motorway junction, told us to "Turn Left, then make a U turn."
The driver, slightly distracted by this odd instruction, turned left and left again, and we were headed the wrong way down the M1. 12 miles to the next junction, but still plenty of time. Until we reached the enormous queue and sat stationary for three hours with the engine off (but the ignition on for the radio and demister). Further ahead, a coach and lorry had collided and several cars had become involved. The northbound carriageway was also closed temporarily so that the air ambulance could land.
When the traffic started moving again, we didn't. Something in the electrics was unhappy, but the radio was still working. The fast lane of the M1, stuck. Fortunately, the cars behind were also stuck and their drivers were quick to offer to push. It is encouraging to know that even with engine management, fuel injection and electronic ignition, a push start will sometimes get you going again. Thanks, guys. We might still be there.